We feel emotionally loaded after the unexpected and nice meeting with Veronika. We roll into the backyard of Ķirbju farm, where Baizelis Jānis greets us.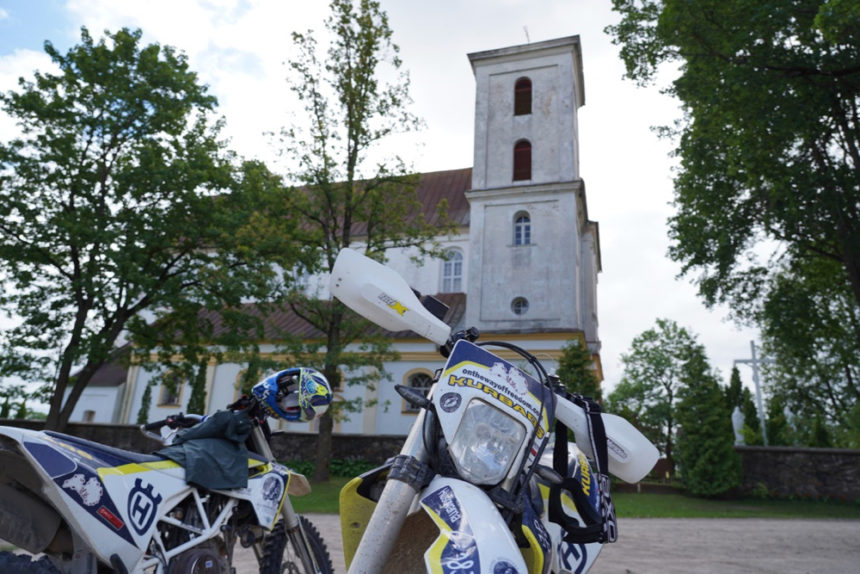 We wake up early, drink our coffee and prepare for departure. At 9am we have a meeting in Skaistkalnes church with a priest from Paulīniešu order, Father Jānis.
The church is build on a hill at the end of 17th century and it's very visible from the road in the sleepy town. Father Jānis, dressed all white, smiles and waits us by the church. He shares interesting stories about the church's history and Paulīniešu order in Latvia.
We have a chance to down to the crypt where remains of highborns and priests are resting. Some of them have fought the time surprisingly well. Father Jānis believes it's because their faith and chastity.
We say goodbye. Now we are heading to explore the famous Skaistkalnes sinkholes which is one of the most unique places in Latvia, where one can see karst's impact. Karsts is an unusual geological process, when water rinses out rocks, sinkholes show up. When those sinkholes get bigger, upper earth layer, lose their basis and fall deeper in nowhere. When driving a motorcycle, you have to be very careful. There are some legends around that say that during the World War II the sound from artillery shootings caused a massive landslide and several battle units were lost.
Our next stop is Eleja. Where we plan to talk with healer Veronika, she had built a church next to her house but we can't plan anything. To our first phone call, we receive a short text: "Can't talk right now!". We let the road take us. We enter Eleja at 7 in the evening, we quickly find the small white church and gather our courage to make one more phone call. We feel caution in Veronika's voice, but she lets us enter the church with one condition – we will not film her.
Āris remembers that his grandmother told him about his meeting with Veronica in his childhood. He doesn't remember that himself. "Yes." Says Veronika. "I know, it happened in 1994." How can she know that if Āris was only two years old back then. Later Āris mum confirms – yes, around that time they took Āris to the healer.
The wise woman watches us all the time, as she is not used to seeing dusty, equipped with various bags motorcyclists, here, in her temple. Slowly the ice melts between us and our communication becomes more friendly. At one moment Veronika even starts to read her poetry and remembers her childhood together with Imants Ziedonis in Lapmežciems. We start to saying goodbyes as best friends when Veronika invites to her house. We happily accept and continue our conversation. It's getting dark outside and reluctantly we need to leave this cosy atmosphere as not far from here, in Vilce, Baizelis Jānis awaits us. Our road to motorcycles lead through the church. In there, Veronika prays for us.